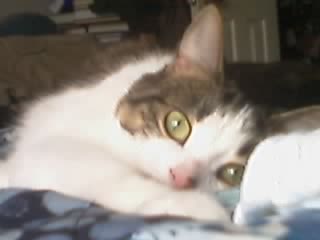 Jerk.
My cat Pedro is smart, but only when he's a dick. He recently discovered how to start the vacuum. See, we have one of those Roombas. You know, the robot vacuum? Right. Until recently we just let it sit on the floor in the charging dock. It's under a chair, it's out of the way, it's always charged.
If you clicked on the link, you saw our Roomba model. It's really easy to use. You just push that "Clean" button on top and it starts going. It's so easy, even a cat could do it. A devious, bastard, asshole cat. At 3am. So easy that he can do it again 15 minutes after you turn it off and redock it. (That's a mistake I only made once.) So easy that he'll still remember how the next afternoon.
"Aren't cats usually afraid of vacuums?" you ask. I thought so too. No. Pedro is retarded.